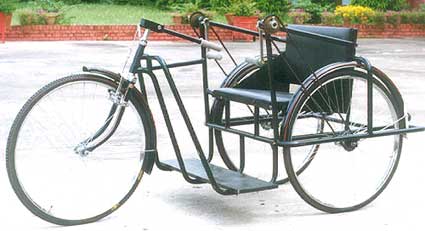 TRICYCLE - HAMRAHI
A new convenient, rugged and comfortable Tricycle for outdoor use and ideal for village.
DIMENSIONS AND SPECIFICATIONS :
a. Product Code : TD 2 C 98
b. Overall Length : 2000 mm
c. Overall Width : 860 mm
d. Overall Height : 1000 mm
e. Weight : 35 kgs. (approx.)
SPECIAL FEATURES :
1. Main Frame : Use of special quality cold drawn and bright annealed conforming to IS : 2039 makes the main frame sturdy to withstand stresses caused by rough terrain. Neatly welded joints add further to the strength of main frame.
2. Seat and Back Rest : Cushioned seat and back rest provide desired comfort to the user. Seat can accomodate two persons in case of need.
3. Driving Mechanism : Driven by standard chain and sprocket mechanism The selection of gear ratio ensures max. mechanism advantage using minimum effort. Can be driven by right or left hand. Provision of chain adjustment or either side.
4. Steering Mechanism : The steetring rod services dual function of directional control as well as braking. Hand grip on the steering rod is specially made of non-marking type rubber and designed for longer life.
5. Side Guards : Carefully designed to prevent entry and exist on right hand side in comformity with traffic rules of our country.
6. Finish : Self drying paints of repute, impart excellent overall finish.
7. Quality Control : ALIMCO, observes strict quality control measures at every stage of production and assembly of the Tricycle to ensure a reliable product to every needy handicapped.
8. Repair and Maintenance : Requires only routine maintenance, use of standard Bicycle components ensures easy repaires and replacement of parts in the local markets.
ACCESSORIES TO BE SUPPLIED ON SPECIFIC REQUEST AGAINST EXTRA PAYMENT :
· Hood for protection from heat and rain.
· A container or rear side to keep necessary items and belongings.
· Bell.
· Head Light.